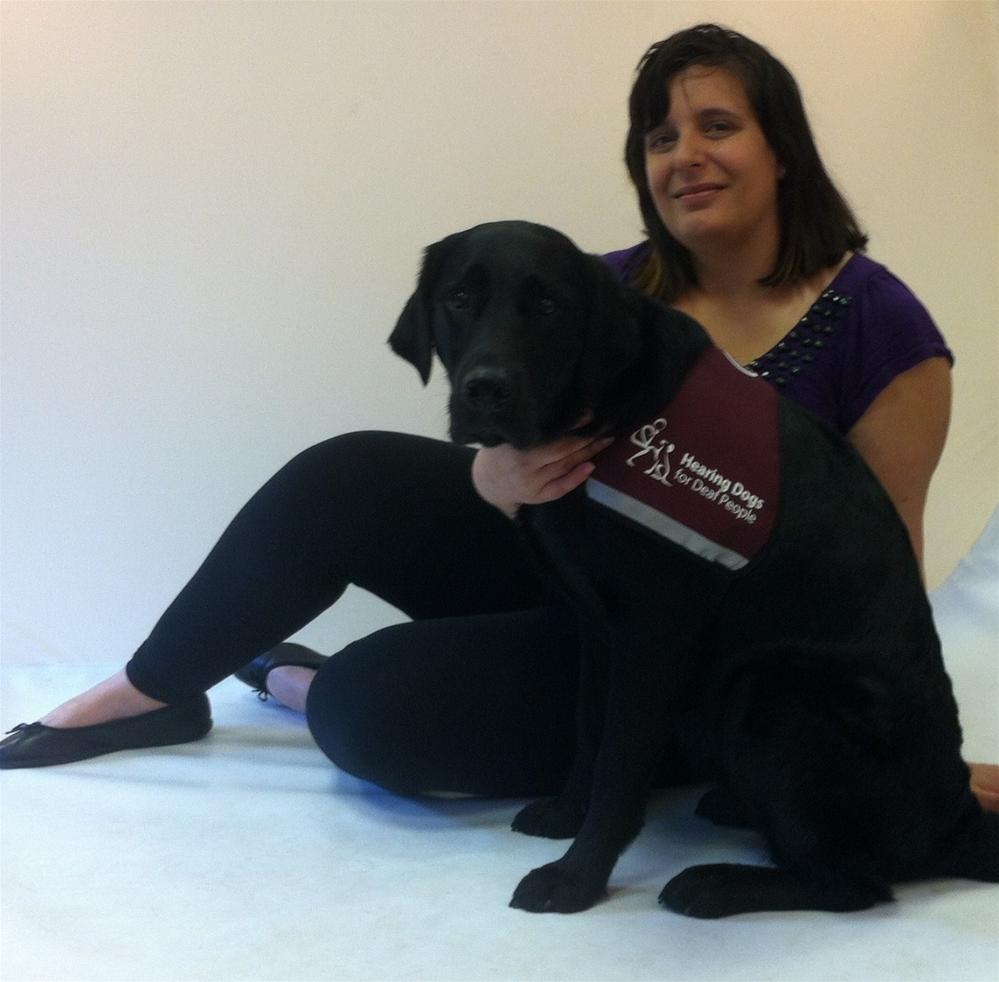 I'm not normally one to read the papers as half the time articles can be over exaggerated or just impartial facts but I've come across something today that made me sad. For those of you who don't know me – I'm profoundly deaf and I have a Hearing Dog from the assistance dog charity, Hearing Dogs for Deaf People, called Inca.
Just for the record the article I'm relating to is this – Daily Mail, LIZ JONES: The disabled make good staff – unlike baldies with beer bellies
Now I know she's indicating some facts of what it can actually be like for the disabled but I wanted to highlight some points.
The photo is not a good representation – because she trained her own dogs to be hearing dogs – they don't have the same training as my Inca did and the charity works hard to train them – in fact from the word go, they are trained from birth attending regular puppy classes with qualifications that they have to pass. Then to finalise it they have their behaviour assessed for suitability as well as several weeks training at the Hearing Dog centre. That is, personally trained for each individual to match needs – this costs thousands of pounds. With the funds that we regularly fundraise and the qualified trainers and dedication of socialisers who actually volunteer to train our dogs, this training wouldn't be possible.
In my case I waited almost 5 years for Inca because of this process (which has now improved) but when someone places an old hearing dog jacket or a makeshift jacket on a dog that isn't properly qualified it makes me cross – I know I shouldn't sound like a know-it-all but I'm stating facts as a trained Hearing Dogs speaker– I just know how hard my assistance dog charity works to produce and get properly trained dogs to assist a deaf person's life.
Inca's alerting to my fire alarm is very different to how Liz describes it – she nudges me and lays flat on the floor – the commotion that Liz describes wouldn't be right – when a danger sound sounds you are wanting calm not chaos! That is just one of the examples why our assistance dogs are uniquely trained – so much thought has gone into the long process.
Another thing to consider here is that the jackets are awarded – only dogs trained by the organisation are given Hearing Dog jackets. This photo in the article may possibly be Liz's dog with the charity's Hearing Dog jacket on, and I feel saddened because that's a misrepresentation of a wonderful charity's work. How did she acquire it?? All Hearing Dogs have new ones now – this helps us to keep up to date records of all the properly qualified ones and also eliminate the fraudulent examples! Another thing to think about is every Hearing or Assistance Dog – be it a Guide Dog, a Canine Partners Dog or a Dog for the Disabled – has a unique ID. You only have to ask the person who has one and they should tell you it or show you their ID card. They also have a passport – the Assistance Dogs UK website explains all this.
And finally, Assistance Dogs of all kinds will have insurance for liability that is paid monthly so if anything happens to our dogs or us, we are protected – so can you blame me when I see a makeshift jacket on a dog, that I occasionally approach them? I know I shouldn't speak up as at times I can get myself in situations, but I just try to embarrass them by making them think that what they are doing is wrong. Sadly this has been the case three times in my home city – and is becoming the norm – maybe this is why the lady with her guide dog had her problem this week, who knows. I had one guy in my city with a scooter placing his huskie on it with a jacket handwritten "working dog" on it and going into shops – I was dismayed that shops allowed him to do it and believed him!! I only discovered him when I went into the shop and his dog was barking at Inca. Luckily Inca's response was to ignore it as that's what she is trained to do.
More awareness is needed overall but I'm already doing this by approaching local shops with assistance dog stickers explaining the need to be aware of the fakes and also ways for them to be aware of the true Assistance Dogs. Legally there's not much to be done about the fakes but if people like us speak up we can raise and unite, show the reality, and show society that dogs like my Inca are unique and not to be impersonated.
Sorry for the rant but I wanted to correct some facts – for now I will continue my and Inca's work presenting stickers and doing my voluntary role as a trained speaker, so ensuring people like us with Assistance Dogs get the treatment we deserve.
If you'd like me and Inca to visit you and discuss how Hearing Dogs work please do contact me lisabai@ntlworld.com – we'll show you how special real Hearing Dogs are.
Lisa Baldock and Inca
---
Update: Response from Hearing Dogs for Deaf People 19.10.14
We've been made aware of an article in the Daily Mail this morning, written by Liz Jones. Liz Jones does not have a hearing dog from Hearing Dogs for Deaf People, and we will be contacting the editor of the Daily Mail this afternoon to raise a complaint about the article and the use of a photograph which misrepresents Hearing Dogs for Deaf People.
Liz Jones has been asked to stop publishing articles where she says she has a hearing dog on two previous occasions, and she has been asked twice by our Chief Executive to visit The Grange to understand how we train our dogs. She has failed to respond to our requests on both occasions.
Irresponsible journalism like this can cause more problems for disabled people with assistance dogs in public places, and we are extremely concerned by her article. We want well-trained recognised assistance dogs to be welcomed in all public places, so access for disabled people is promoted and supported by shops, restaurants and leisure operators, as well as in the workplace.
Thank you for your e-mails, calls and comments – it's fantastic for us to know how many of you care so much for Hearing Dogs that you are prepared to stand up for us when you see an article like this.
We will keep you posted.